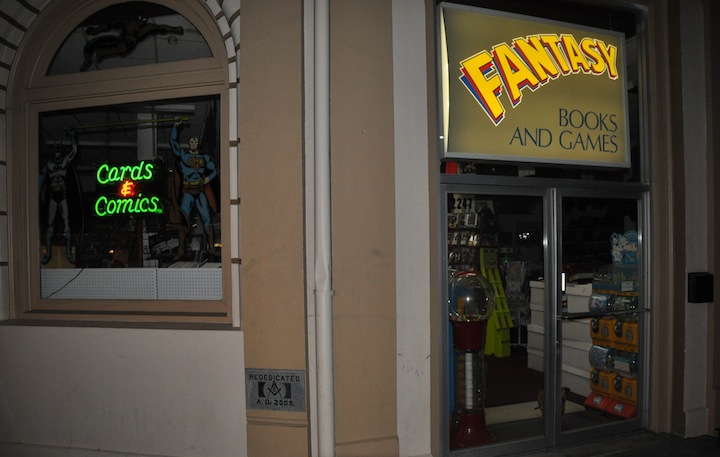 2247 First St, Livermore, CA
925-449-5233
(Update: Bob the Dog barked his last in Aug of 2013.)
Bob (the dog) and I have been working here again Tuesdays since September, 2011. Bob (the human) needed some "personal time" and some "some things a business needs take more than an hour in the morning before we open" time, so we've been giving him some well-deserved freedom and elbow grease. It's been a long time since we worked in a comic store, and other than having trouble knowing where all one million items are in this massive store, we both stepped right in like we never left. All the new comics are on sale each Wednesday, along with all the other books, statues, and action figures. We'll do our best to help you out on Tuesdays, but if you have really tough questions or want to sell or trade comics or cards, come in on any other day, or better yet, call first at 925-449-5233 and ask for Bob.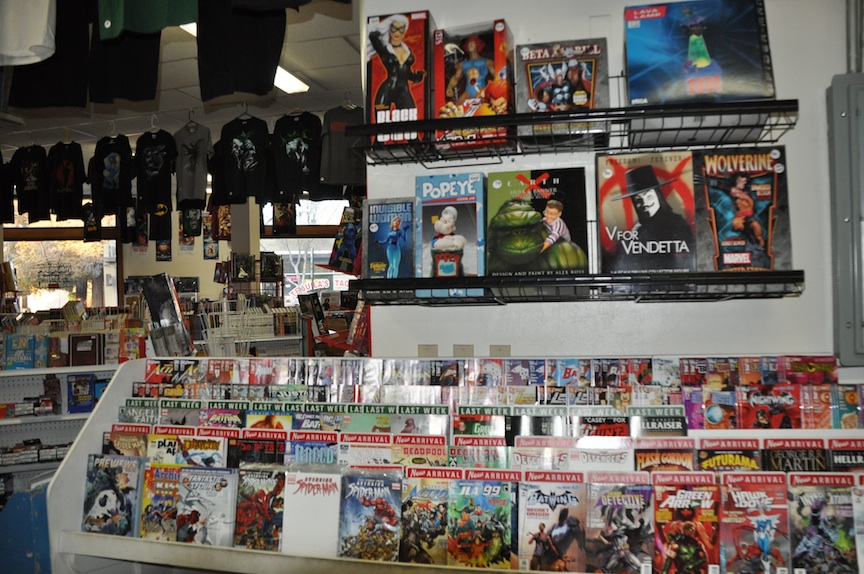 I recently (December 2011) took a lot of pictures of the amazing array of products for sale to help people convince themselves that it's worth the drive from Tracy or San Jose or San Francisco. I said a million up there, and I AM NOT KIDDING! Before you leave this page, scroll down to the photo gallery and try and take it all in. There are hundreds of t-shirts hanging from the ceiling, hundreds of statues in the showcases, hundreds of action figures, including a whole wall of Star Wars, a huge selection of paperbacks and hardcovers from Marvel, DC, and all the other comics publishers, posters, thousands of old comics priced at $1.00, a huge clearance price section at half or more off, the biggest selection of manga books anywhere. Oh, gosh, I almost forgot the cards. Sports packs going back several years, Yu-Gi-Oh, Magic, and Pokemon packs and special sets, and a zillion single cards starting at 15 cent commons up to rares and super-rares! He's also got role-playing games and dice of all shapes and sizes, plus Marvel and DC Heroclix, Mage Knight, Halo, Warcraft and more miniature clickable games. He also has all kinds of great stuff for young readers, and general audiences, from Archie to Disney to Sponge Bob to Calvin and Hobbes to Tin Tin.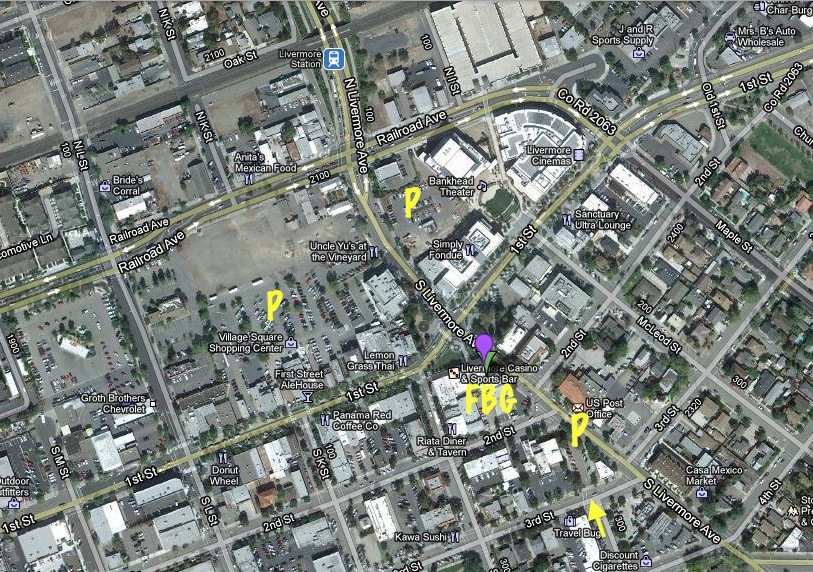 Downtown Livermore is a surprising treat, with something for everyone. Dozens of great restaurants, wine bars, and other specialty shops, spas, salons, and movie theaters are within easy walking distance. Bring the family and make a day of it. There is ample parking within a block or two in several directions. Click on the map to enlarge it, then "back".
I also wrote a blog post about this back in September and forgot to publish it until now. It's a little redundant, but there's a cute picture of Bob in the grass. I mean Bob the Dog.
And to prove the effectiveness of all my hard work, when you do visit, please tell Bob you saw this page on the web, and that if you hadn't seen it, you wouldn't be there spending money, okay?
And below, you'll find a gallery of pics of the store and all of its "inhabitants". Click each pic once to enlarge it, then hit "back" to come back here to the gallery.